The ideal radar solution for port area monitoring and near-shore navigation in bad weather, darkness and fog.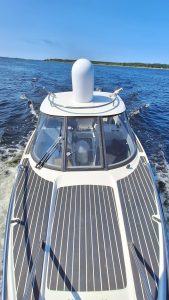 ELVA-1 SDM360-76 is a short-range marine radar with all-around visibility. It is designed for installation on icebreakers, large sea tugs, rescue vessels, as well as any vessels with an automated collision-free navigation system.
This digital short-range radar is a precise sensor for unmanned technological platforms for commercial vessels. Remote-controlled or fully autonomous ships in commercial use are required to run a constant survey of the area around the ship for obstacle avoidance procedures.
The absence of a blind zone allows ELVA-1 SDM360-76 radar to measure the distance between the vessel and possible obstacles (other vessels around, port facilities, coastline) within the range from 0 to 300 m (up to 0.162 nmi) with very high accuracy.
SDM360-76 radar helps to control the icebreakers, large sea tug or rescue vessels closer to ships during ice escort or mooring.
Interested in learning what E-band radar differs from S-band, X-band and K-band radars and what its advantages are, read our blog article Short-Range Marine Radar FAQ.
SDM360-76 radar has low radiation emission (up to 100 mW) for safe operation on board vessels, in the territory of commercial ports, and on sea routes in caravans. The radiation with a power of 100 mW is several times lower than the radiation from a conventional mobile phone (compared to 300 mW for the latest iPhone models). Radiation density at a distance of several meters falls below the minimum to be measured.
Ultra short-range E-band marine radar demo videos on a tug and a speedboat
The antenna has circular rotation with a directional pattern to measure the distance up to 300 m (0.162 nautical miles) from the radar. The waves on the water's surface do not interfere with the radar's field of view.
SDM360-76 radar in terms of its functionality is a distance sensor, the output of which is a digital signal. In addition to indicating the distance from its own side to the target, the radar can display a radar picture of the near-field zone around the vessel (in the range from 180 to 360 degrees). For data visualization, it is necessary to use additional software (supplied separately).
The maximum efficiency of the SDM360-76 radar is achieved when the radar output data are integrated into the vessel's navigation system, including the remote or autonomous one.
76 GHz radar operates in the millimeter wave spectrum, and has no weather restrictions, unlike laser rangefinders. Easy penetration of the fog, dust, smog, smoke, and water vapour is provided. In addition, the operation of the radar is not affected by direct sunlight or ship searchlights.
The advantage of the technological solution of the SDM360-76 radar is scanning the near-field zone "to its own side" with a high resolution regardless of weather conditions. In this, it differs from traditional 3 GHz or 9 GHz marine radars, which have a significant blind zone.  
76 GHz SDM360-76 Marine Radar Specifications
Distance measurement range
0 – 300 m (0 – 0.162 nmi)
Range resolution
± 0.075 m
Digital data output 
Yes
Antenna rotation speed
0.5 rev / s
Radar frequency
76.5  ± 0.5 GHz
Modulation
FMCW
Max output power on the transmitter
100 mW
Antenna type
Built-in
Beam width in the horizontal plane
2 degrees
Beam width in the vertical plane 
15 degrees
Output Interface
100Base-Tx UTP Ethernet
Protective radome included 
Yes
Environment protection class
IP65 / IP67
Environment operating temperature
-40 to +50 °С
* Consumed electrical power
100 W, 18-36 V DC
*The internal heater is intended to keep radar electronics inside the case at a comfortable temperature. It starts automatically when the ambient temperature comes below 0 °С.