Digitally Controlled MM-wave Oscillators 220 to 300 GHz
OMIL-03/xxx/1 Terahertz Series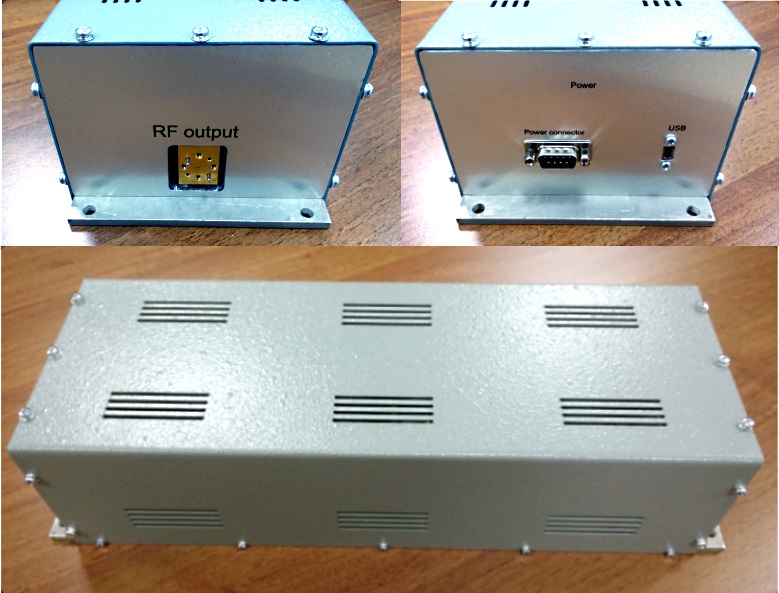 Tunable oscillator model OMIL-03/xxx/1/22 is custom-frequency-defined fully packaged mm-wave source for sub-terahertz frequency band. According to customer specs, any central frequency can be chosen within 220 to 300 GHz, with ±1 GHz frequency tuning.
The oscillator (signal generator) consists of built-in IMPATT source and frequency reference synthesizer, and external power supply.  There is USB input for external frequency control. Delivery set contains «Frequency Tuning Tool» software for setting output frequency from PC.
Download an example of operation manual for mm-wave signal generator 263.45 GHz oscillator OMIL-03/263.45/1 here.
Features             
Frequency range:            220 to 300 GHz (any 2 GHz band within this range)
Frequency accuracy:      < 1 kHz in +10…+40 °C temperature range
Frequency step:               2 kHz
Output power:                20 to 30 mW (30 mW max)
Fully packaged and automated
Applications
Instrumentation automated subsystems
Laboratory measurement and test equipment
Source for Network Analysers, Plasma diagnostics and spectrometers
 Typical diagram for output power vs frequency for OMIL-03/xxx/1  (for 262.45-264.45 GHz)

How to Order this mm-wave oscillator:
Specify Model Number: OMIL-03/xxx.xx/1, where xxx.xx is central frequency within 220 to 300 GHz range, given with two decimal places accuracy.
………..
Example: To order oscillator with 263.45 GHz central frequency, request OMIL-03/263.45/1 unit.
Common Specifications

Frequency accuracy
< 1 kHz at +10…+40°C
Frequency range
220 to 300 GHz (any 2 GHz band within range)
Frequency step
2 kHz
Frequency settling time
1 s (max)
Phase noise
‒50 dBc/Hz @ 10 kHz offset
‒80 dBc/Hz @ 100 kHz offset
better than ‒100 dBc/Hz @ 1000 kHz offset
Output power
22…25 mW (30 mW max)
Output waveguide
WR-03 with UG0387/U-M flange
Output frequency control
USB-HID (software is included)/USB-mini B
Power supply unit (PSU included to delivery pack)
external AC(100VAC, 50/60Hz)/DC PSU
Operating temperature range, °C
+10…+40
Size  (without PSU)
85x125x350 mm
Weight  (without PSU)
5 kg