Features

26.5-220 GHz operating frequency

6 – 12 dB conversion losses

Good flatness

Up to 22 GHz IF

Up to 40 dB balance

VSWR 2:1 (typ.)

Applications

Low noise receivers of mm-wave signal

Instruments and test equipment

Description

The Balanced mixers are frequently used as a part of a mm-wave receivers/down converters. Also ELVA-1 offers the rest components of the down converters: High stable local oscillator CIDO series to drive balanced mixer and waveguide filters. Due to the down converters have two received frequency bands lower and higher LO frequency some waveguide filters can be installed at RF port of the Balanced mixer to suppress needless signals.

Typical Block Diagram

Typical appearance and measured data of a receiver/down converter are presented below: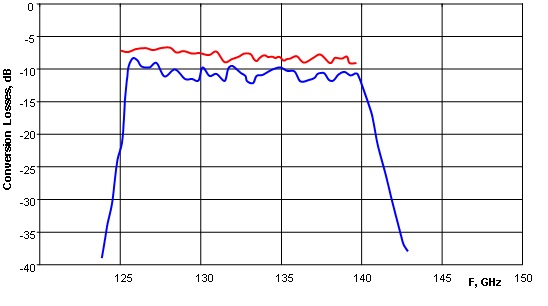 Conversion Losses of the Downconverter Flo= 121.4 GHz RF=127.4-139.4GHz
Red line – without input BPF filter                 Blue line – with input BPF filter

How to order
 Specify Model Number DCBM-XX/LO/IF/N/A/В, where
XX – number of waveguide standard (Ex. 10 for WR-10 and 06 for WR-06)
LO – LO frequency (or operating range), F- if full band
IF  – intermediate frequency range
N  – number of operating harmonic, nothing if N=1
A  – with built-in power amplifier at output, nothing if without output power amplifier
B  – requires bias, nothing if no bias
Examples
DCBM-06/142/6-18 (D-band mixer, LO= 142 GHz, IF= 6-18 GHz
DCBM-10/94/0.5-1.5/A (W-band mixer, LO= 94 GHz, IF= 0.5-1.5 GHz, harmonic number 1, with built-in output power amplifier
Delivery time 6-8 weeks for standard models. Custom designed mixers are delivered within 12 weeks ARO.
All ELVA-1 balanced mixers are warranted by the manufacturer for one year after receipt.