---
ENR 12…15 dB typical
High stability
Good flatness
No high-voltage supply required
Compact solid-state source
High reliability, rugged construction
Applications
Measurement and test equipment
Mm-wave noise source
Calibration
Noise figure measurement
Сompatible with noise figure meters for all brand names.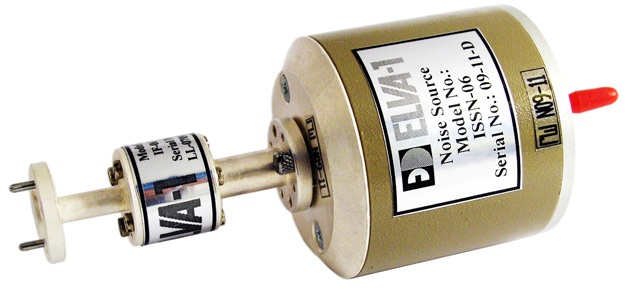 Description
ELVA-1's calibrated noise source ISSN-XX series delivers a uniform noise power spectral density within the whole waveguide frequency range. Sources are available in eight waveguide bands covering from 26.5 to 170 GHz. A Silicon IMPATT diode is employed as a fundamental building block of the source. The high stability of the device allows it to be used for test and instrumentation applications in place of gas-tube noise sources. Low DC power requirements eliminate the need for complex high-voltage supplies. Two operation modes are CW (continuous wave) mode and pulsed AM mode with modulation frequencies up to 1 kHz. A typical value of excess noise ratio (ENR) as a function of frequency is given in the plot below.
Block Diagram of Noise Source

Inputs and Controls: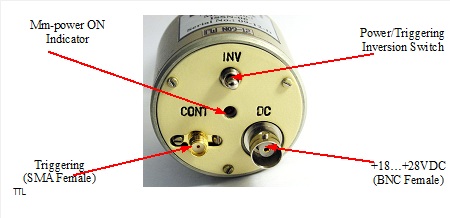 Notes:
Power/Triggering Inversion Switch can be used for manual ON/OFF. "INV" position is ON.

The microwave power can be switched with TTL-level control

voltage.

If the Triggering Inversion Switch is in OFF (Down) position active level is high,

otherwise (INV position) – the active level is low.

Each source supplied is calibrated relative to the liquid nitrogen-cooled load. 



Specifications
Model Number
ISSN-28
ISSN-22
ISSN-19
ISSN-15
ISSN-12
ISSN-10
ISSN-08
ISSN-06
Frequency Band
Ka
Q
U
V
E
W
F
D
Range, GHz
26.5-40
33-50
40-60
50-75
60-90
75-110
90-140
110-170
Output waveguide
WR28
WR22
WR19
WR15
WR12
WR10
WR8
WR6
Waveguide Flange
UG599/U
UG383/U
UG383/U-M
UG385/U
UG-387/U
UG387/U-M
UG387/U-M
UG387/U-M
Bandwidth, GHz
Full
Full
Full
Full
Full
Full
Full
Full
ENR, dB (nom)
15
14
13
13
13
12
12
12
ENR Flatness, dB
±1.0
±1.5
±1.5
±1.5
±1.5
±1.5
±2.0
±2.5
Stability, dB/°C
0.01
0.01
0.01
0.01
0.01
0.01
0.01
0.01
Stability/Day, dB
0.05
0.05
0.05
0.05
0.05
0.05
0.05
0.05
Biasing Voltage, V
+18…+28
Sizes, mm*
50/75
50/75
50/75
50/75
50/60
50/60
50/60
50/60
* Cylinder diameter/length (without isolator)
Notes:
Maximum operating temperature is +60

°

C

Diode operating current is 50…100 mA.

A limiting value of modulation frequency is 1 kHz (external triggering).

Triggering signal amplitude is TTL level.

The bias voltage is +18 V It is possible to supply the noise source with +28 V DC biasing for compatibility with commonly used noise meters.

The external triggering connector is SMA female

ENR would be increased for narrower bandwidth. Please get in touch with the factory. 

For higher-frequency models please get in touch with the factory.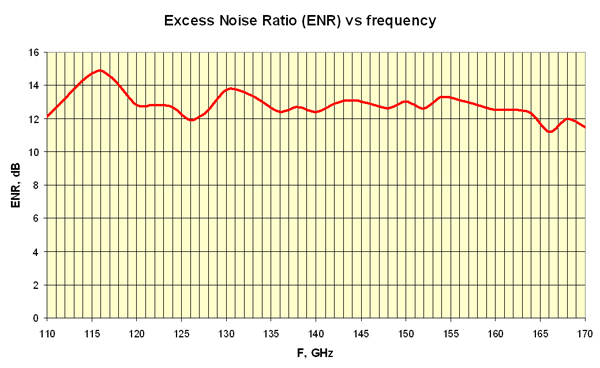 The below chart shows the ENR value of different ISSN-06 units (i.e. the parameters in a batch of the same type of units). This is to show that ISSN-06 does not have more than 2.5 dB difference in the ENR parameter.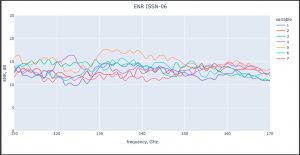 How to order
Specify Model Number ISSN-XX/BW/V, where
XX  – number of waveguide standard (Ex. 10 for WR-10 and 06 for WR-06)
BW – operating bandwidth in GHz (nothing if full band)
V   – type of power supply: 18 or 28 if external power supply +18 V DC or +28 V DC of customer's lab will be used (specify voltage), 110 or 220 if external 110 V AC or 220 V AC power supply is requested together with the noise source
Examples
ISSN-10/28 ( W-band noise source with output waveguide WR-10, full band 75-110 GHz, external power supply +28 V DC not requested
ISSN-06/110-140/220 ( D-band noise source with output waveguide WR-06, operating frequency 110-140 GHz, external 220VAC power supply requested as well