Industry's First True 10GE Wireless Connectivity for T2G (train-ground) in E-band 70-80 GHz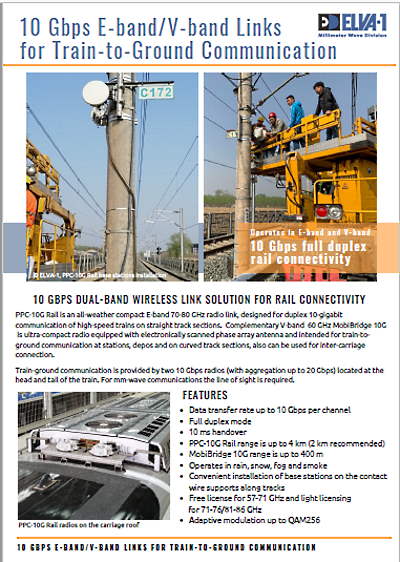 PPC-10G-E-Rail is an all-weather compact E-band 70-80 GHz radio link, designed for duplex 10-gigabit train-ground communication of high-speed trains on straight track sections. Complementary V-band 60 GHz MobiBridge 10G is ultra-compact radio equipped with an electronically scanned phased array antenna. It is intended for 10 Gbps data offload at stations, depots and on curved track sections, and also can be used for the inter-carriage connection.

Train-ground communication is provided by two 10 Gbps radios (with aggregation up to 20 Gbps) located at the head and tail of the train. For mm-wave communications, the line of sight is required either for E-band or V-band radios.
Click to download ELVA-1 10 Gbps rail connectivity product booklet.
E-band 70-80 GHz radios are the most promising technology for the driverless locomotives and trains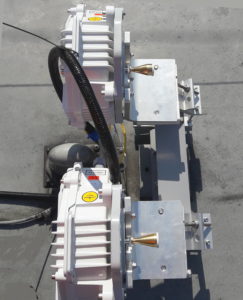 ELVA-1 PPC-10G-E-Rail is mm-wave radio link for true 10 Gigabit connectivity for rail transport. PPC-10G Rail is a railway modification of the all-weather millimeter band radio bridge PPC-10G designed for duplex 10-gigabit communication of high-speed trains, metro trains and light rail vehicles with the operator's network on straight track sections.
The train-to-ground communication is provided in the millimeter wave E-band 70-80 GHz
(71-76/81-86 GHz), permitted in many countries for so-called light licensing of the frequency.
Due to the multigigabit data rate, millimeter-band communication systems are the most promising technology for the safe operation of an unmanned rail vehicle, which constantly exchanges data with the operator's network.
The mmWave communication technology for straight track sections based on PPC-10G-E-Rail radio uses millimeter band (71-76/81-86 GHz) transceivers in the head and back of the train (tram, metro train), which provide connection to the base stations on the contact network supports and on other rail infrastructure (bridges, walls inside the tunnel, etc.).
Each set of PPC-10G-E-Rail radios is designed for a data transmission speed of up to 10 Gbps. The "forward and reverse of the train" communication channels are summarized by the train network equipment? and in this case, the total bandwidth can be up to 20 Gbps.
The existing technologies for connecting rail transport to the Internet (train-to-ground) are widely based on the use of GSM modems. In some of the projects, a network of roadside Wi-Fi access points is used. Both technologies are characterized by low connection speed (usually up to 300 Mbps) and handover delays when switching from one base station to another.

In addition, the connection performance for both the GSM modems and the roadside Wi-Fi suffers a significant degradation as the train speed increases. Therefore, the task of designing communication with high-speed rail transport based on new technologies is very actual in the industry.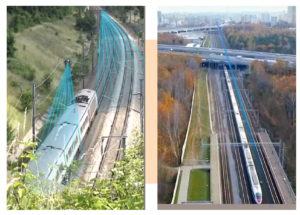 During the tests of PPC-10G-E-rail on a 6.3 km section of high-speed railway, the stable connection train-ground of 11.3 Gbps was registered in the mode of aggregation of two 10GE channels from the head and back of the train to base stations.
The PPC-10G-E-Rail radio can be used in the railway industry for the following:
Wireless 10 to 20 Gbps train-to-ground connection,
Broadband Internet access for passengers over inter-train Wi-Fi,
Remote control of fully driverless rail transport
Remote video surveillance of the road forward and backward of the train, the driver's workplace, and the situation in the carriages of trains (subway, trams) in real-time from the traffic control centres.
Advantages of the PPC-10G Rail
1. Ultra-wide bandwidth
The PPC-10G-Rail radio operates in full-duplex mode, i.e. simultaneously transmits data at up to 10 Gbps in both directions. The 10 Gbps connection allows up to 400x real-time video streams with 4K UHD quality from the moving train to the traffic control centre.
2. Electromagnetic environment independence
PPC-10G Rail wireless communications systems belong to the line-of-sight radios. The feature of millimeter waves is quasi-optical signal propagation (like a laser beam) and narrow antenna patterns. This allows communication in any electromagnetic environment, day and night, in any atmospheric precipitation.
3. Operation in all types of precipitation
PPC-10G Rail equipment is working steadily in zero visibility – in snow, rain, fog, smoke or dusty atmosphere. When signal propagation conditions deteriorate, the modulation is automatically changed from QAM128 to lower modulation schemes, which helps maintain the connection.
4. Light licensing for 71-76/81-86 GHz (E-band)
This frequency spectrum is allocated for a line of sight broadband communication.
PPC-10G Contents
The PPC-10G-Rail set consists of base stations and onboard transceivers, each of which includes a radio module with an antenna. The onboard transceiver is powered through an Ethernet cable from the onboard network of the vehicle (train, tram) or from an external power supply (supplied separately). The base stations are powered by the main 110-230 V AC.
PPC-10G Rail base stations are supplied with 30 cm antennas (also 20 cm to 60 cm antennas are available)
PPC-10G Rail onboard radios are equipped with antennas of smaller diameter, the transceiver and the antenna could be built into the design of the loco as agreed with the customer.
PPC-10G-E-Rail Features
Throughput up to 10 Gbps
Full duplex mode
License-free spectrum V-band 57-64 GHz or 57-71 GHz
7 sub-bands @2000 MHz
Distance range up to 4000 m (2000 m is optimal)
Waterproof design for rail transport,
Remote management from a traffic control centre.