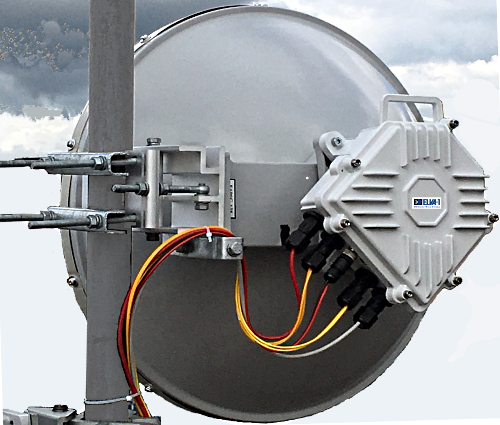 | | |
| --- | --- |
| PPC-10G-E L2+ Datasheet (pdf, 1.5M) | |
PPC-10G-E-L2+ is IP radio link, providing true 10 Gbps full-duplex throughput. The link is intended for point-to-point applications such as 5G/LTE+ Backhaul, campus networks, 4K UHD video streaming. ELVA-1's PPC-10G is available in either lightly licensed 70/80 GHz (E-band) OR licensed 40.5-43.5 GHz (Q-band) frequency formats with 1 ft or 2 ft antennas.
4-port, full duplex 10 GE L2+ managed switch allows use the radio in customer's network without buying external switches for 10GE network deployment. This also allows to easily build hop-by-hop chain of radios to cover long distance trace. The intermediate network segments could be included to IP traffic exchange at any hop to bring better flexibility of 10GE connectivity.
The PPC-10G platform is based on state-of-the-art MMIC chips, which support Quadrature Amplitude Modulation in digital data radio communications.  Using QAM 128, PPC-10G requires only 2 GHz bandwidth at 70/80 GHz for its 10 Gpbs data rate. For Q-band, ELVA-1 has pioneered the implementation of QAM 256 technology to achieve the best spectrum efficiency in the industry.
ELVA-1 PPC-10G-E-L2+ is a fully-outdoor radio, designed for temperatures -50 °C (-50 °F) to +65 °C (150 °F), and humidity up to 100%.  Delivery kit for each radio contains tuning panel to indicate RSL level for fast antenna alignment. Working distance up to 8 km/5 mi.
Main Features:
Frequency bands:  71-76/81-86 GHz or 40.5-43.5 GHz*      (*Q-band under request)
Up to 8 km (5 miles) real working distance (E-band) in most regions
Up to 16 km (10 miles) in Arctic or desert regions for high power version (E-band)
True 10 Gbps Full Duplex Operation (E-band)
SNMP v.1; v.2; v.3; MIB-II; WEB; Telnet; CLI
Hitless adaptive bandwidth, coding and modulation
See also for PPC-10G-E (E-band):
Declaration of Conformity to 2014/53/EU Radio Equipment Directive (RED)