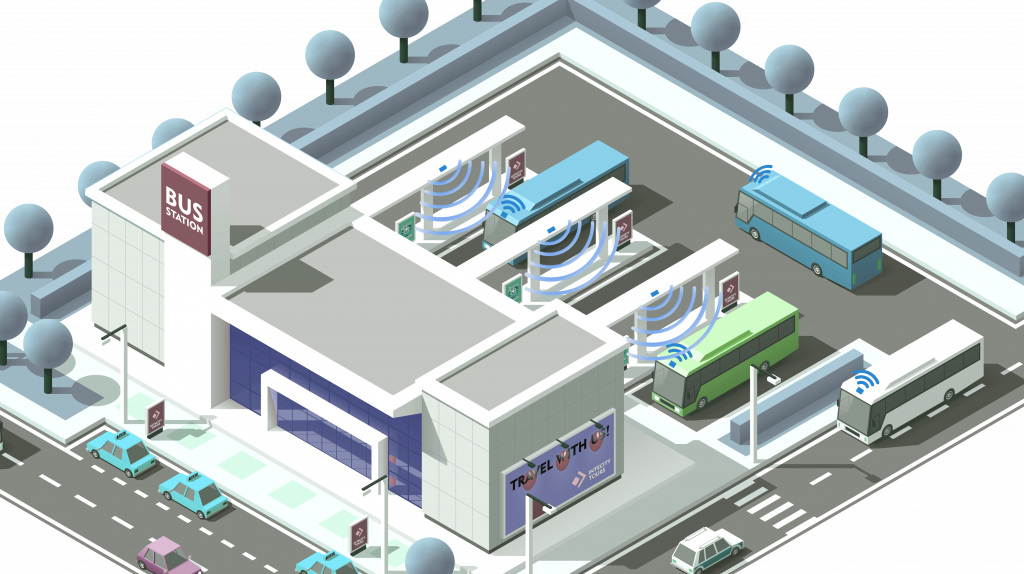 World's First Ultra-Compact 10GE Connectivity for V2X/V2N Applications including SELF-Driving Cars 
ELVA-1 MobiBridge 10G is all-weather universal radio link for true 10 Gigabit connectivity for V2X applications, train carriages interconnection, vessels to in-port broadband Internet access, public transport to the Internet at stops. MobiBridge radios support 7 sub-bands within 57-to-71 GHz V-band license-free frequency spectrum to comply with national regulation requirements worldwide. Each radio has a built-in electronically scanned antenna to search for other side radios and establishes the connection automatically.
For railways and tram operators, ELVA-1 MobiBridge 10G provides the ability to dynamically create an end-to-end 10 gigabit network across the train. This is convenient for often carriage re-composition, changing the number of carriages on the train, depending on the route demand or seasonal load.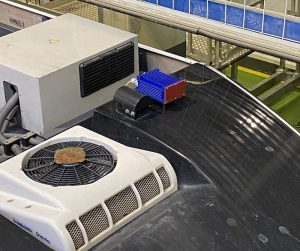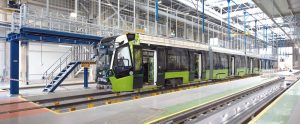 Features
Throughput up to 10 Gbps
Full duplex mode
License free spectrum V-band 57-64 GHz or 57-71 GHz
7 sub-bands @2000 MHz
Distance range up to 300 m
Waterproof design for rail transport, vessels and buses,
the case  (housing) can be custom-designed for your project
Automatic setup and configuration
Easy to install
MobiBridge 10G Specifications
Model
MobiBridge 10G
Max Throughput
10 Gbps Full duplex (within 10 m range)
Max Channel Bandwidths
2000 MHz
Modulation
QAM-128 to BPSK (for range 10 to 200 m)
Adaptive rate
Hitless adaptive bandwidth, coding and modulation
Max Range depending on modulation
10 m @QAM128 / 400 m @BPSK
Ethernet Interface
1×SFP+ 10GBase-LR/SR,
1xCopper 1000/100Base-Tx for service
Antenna
Built into radio unit
Ethernet
Transparent for Ethernet services, Flow Control 802.3x, PTP
Power Supply
PoE 20W
Power Connection
IP-65 [optional IP-68]
Operational Temperature
-50 to +60 °C / -58 to 140 °F
Humidity
Up to 99%
Radio unit size
(Depends on customer specifications)
For more info on this product, download MobiBridge 10G product booklet and datasheet: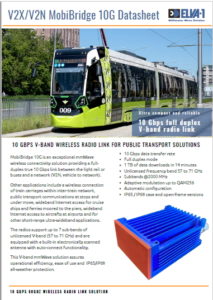 Data Booster for MobiBridge 10G radios
The FRONT Deskwall 620.99.4016 Win 10 Pro is a powerful data booster that makes your storage
files available for fast download over 10 Gbps Ethernet networks. It is intended to be installed on the vehicles.
Download datasheet for FRONT Deskwall data booster here: