Dual-band 8-channel (4x 10 Gbps E-band plus 4x 5 Gbps Q-band) industry-record wireless connection works on a distance of 11 km (6.8 miles) from the same footprints over Yenisei river in Polar Siberia.
DOK Ltd, ELVA's manufacturing partner has announced the installation of mm-wave 4x 5 Gbps Q-band (40.5-43.5 GHz) radio links in addition to the previously installed four 70/80 GHz 10 Gbps radios across the Yenisei River in the Arctic Circle. All the wireless radios are being deployed at the same towers in Igarka and Priluki, at an 11 km distance on the banks of the river.
The customer, "Edinstvo" Ltd, a subsidiary of "Norilsk Nickel" is responsible for the telecommunication services of the holding, has recently expanded its fiber backbone to Norilsk city to 200 Gbps and increased its wireless mm-wave backup over Enisei River up to 60 Gbps aggregated throughput.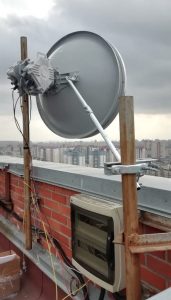 Two independent dual-radio Q-band (40.5-43.5 GHz) wireless links (PPC-10G-Q-3ft/2+0) were used to upgrade the link. Each channel in the PPC-10G-Q-3ft/2+0 wireless bridge provides 5 Gbps full-duplex capacity, with a total capacity of the Q-band throughput equal to 20 Gbps (4x 5 Gbps), with its own transceiver, cables and power supply.  A pair of radios work in different polarization, sharing a single 3ft antenna via diplexer.
This is currently the first in the industry deployment of polarity- and frequency-separated aggregated Q-band link with such capacity. Wireless radios are using 3ft antennas, which is a rare case for Q-band, so additional adjustable struts were used to sustain additional wind load.
The network team of "Edinstvo" has solved the difficult task of improving the fiber line reliability at its most complicated stage, the underwater crossing of Yenisei River near the city of Igarka (Krasnoyarsk region). During the winter season of 2020-2021, a unique project of horizontal directional drilling in permafrost under the Enisei river bed has been completed before the seasonal ice drift, by drilling simultaneously from both left and right banks of the river.
The unique dual-band combination of 8 multigigabit radios working together at E-band and Q-band allows significantly improve wireless connection availability under precipitation of different types and densities.
See also: Year-round availability statistics for industry-first commercial 40 Gbps E-band wireless channel.
***
About ELVA-1
Founded in 1993, ELVA -1 has facilities in Estonia and contracted manufacturing in St.Petersburg, Russia. Since 1993 the company has designed and manufactured millimetre wave equipment for communications and scientific sectors. For the past decade ELVA-1 has concentrated on designing high quality communications point-to-point radios, this has culminated in the release of the PPC-10G, the world's longest range commercially available 10+ Gigabit radio. Company has a dedicated website for telecom products http://tele.elva-1.com.
About NORILSK NICKEL and Edinstvo
PJSC «MMC NORILSK NICKEL» is a diversified mining and metallurgical company, the world's largest producer of refined nickel and palladium and a leading producer of platinum, cobalt, copper and rhodium. The company also produces gold, silver, iridium, selenium, ruthenium and tellurium.
The production units of «NORILSK NICKEL» Group are located at the Norilsk Industrial District, on the Kola Peninsula and Chita region in Russia as well as in Finland and South Africa. PJSC «MMC «NORILSK NICKEL» shares are listed on the Moscow and Saint-Petersburg Stock Exchanges. PJSC «MMC «NORILSK NICKEL» ADRs trade over the counter in the US and on the London and Berlin Stock Exchanges. Company website https://www.nornickel.com.
"Edinstvo" Ltd. is a regional-wide carrier, providing high-speed connectivity between the "Mainland" and cities and towns of Norilsk industrial cluster along its main communication backbone lines, increasing resillence of both rural communities and businesses in the Far North. Mor information about the company: www.nn-edinstvo.ru.