SNS Research Listed ELVA-1 within Key Suppliers for 5G Industry at 2017 – 2030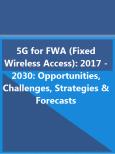 SNS Research agency has developed new "5G for FWA (Fixed Wireless Access): 2017 – 2030: Opportunities, Challenges, Strategies & Forecasts" report. This document has been added to offerings at "Research and Markets" web portal, the largest source of marketing reports.
Among 5G technology forecast topics, this report covers "Company profiles and strategies of 80 FWA vendors". This chapter includes ELVA-1 profile as supplier of ultra-high throughput mm-wave radios for 5G backhaul infrastructure (see COMPANIES MENTIONEd tab at https://www.researchandmarkets.com/research/njdzd4/5g_for_fwa_fixed).

The other new SNS Research Millimeter Wave Equipment – Global Strategic Business Report lists ELVA-1 within TOP-10 global vendors. The reports describes bandwidth hungry networks to drive the market and what kind of products these TOP-10 supply.
During 2017, ELVA-1 10 GE radio has been granted with FCC (FCC ID: 2AIXT-PPC-10G-E) and 2014/53/EU Radio Equipment Directive (RED) regulatory approvals for territories of United States, EU member states and for other courtiers recognizing these certifications. For 4G+/5G operators ELVA-1 has developed 2+0 20 Gbps dual-radio link, which is can be further aggregated into true 40 GE channel for 5G ultra-high wideband applications.
Enjoy short animation for ELVA vision of 10 GE Fixed Wireless Access network: