ELVA Anoounced New PPC-10G-E-L2+ Radio with 4-port 10GE Switch
Since Jan. 2018, new model of PPC-10G-E 10 GE radio is available to order internationaly.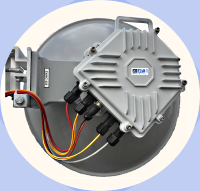 4-port, full duplex 10 GE L2+ managed switch allows use PPC-10G-E radio in customer's network without buying external switches for 10 GE network deployment. This also allows to easily build hop-by-hop chain of radios to cover long distance trace. The intermediate network segments could be included to IP traffic exchange at any hop to bring better flexibility of 10GE connectivity.
For more info on PPC-10G-E-L2+ Radio see https://www.elva-1.com/products/a40142.
Detailed Datasheet is also available there.