New Millimeter Wave Signal Generator for E-band and W-band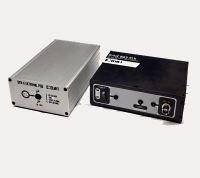 ELVA-1 announced availability of portable SYN-E(W)X/X model of mm-wave signal generator with softwar-based control. In contrast to other analogues on the market, this signal generator provides a direct setting of the output frequency through the software application, without the hassle of using multiplication factors from the base frequency.
The USB port allows this generator to get connected to a host computer by a standard USB cable and controlled via the Graphical User Interface (GUI) software supplied with each unit. The simple communication protocol is available to custom automatic-test-equipment applications that provides carefree integration within various test environments while improving overall productivity and equipment utilization.
The output frequency is controlled over the USB port with a resolution of 1 kHz. Typical output frequency bandwidth  is 1 ÷ 4 GHz within 68-88 GHz spectrum (up to 100 GHz in custom-designed generators). For generator models with bandwidth more than 4 GHz please contact ELVA-1.
Visit SYN-E(W)X/X mm-wave signal generator product page for more information and datasheet download.