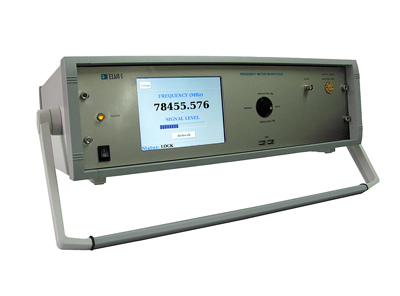 Fully automated frequency meter 70-260GHz
Frequency meter allows to measure the frequency in range 70-260GHz. The device is equipped with a touch screen and five-position button with encoder. Device permits to connect an external monitor as data output method.
The instrument can be controlled by remote computer or be a part of automated complex through GPIB interface.
Common Specifications
| | | |
| --- | --- | --- |
| No. | Specifications | Range |
| 1 | Input Frequency range | 70 – 220 GHz |
| 2 | Maximum input | + 10 dBm |
| 3 | Minimum input | -20 dBm |
| 4 | Damage level | +13 dBm |
| 5 | Dynamic range | 30 dB |
| 6 | Standard Input connectors | Flange UG-378/U-M |
| 7 | Standard Input waveguide | WR-10 |
| 8 | Standard Output connector | SMA |
| 9 | Modes of operation | Counter |
| 10 | Accuracy | +/- 1 MHz |
| 11 | Resolution | 1 kHz |
| 12 | IF Output | 50-100 MHz |
| 13 | Control Interface | GPIB |
| 14 | Power Supply | 230 V, +/- 10%, 50- 60 HZ,~200 VA |
| 15 | Operating temperature range | +10°C…+ 50°C |
Please check full product specification (Pdf, 2лю)