ELVA-1 updated Gaussian Optics Lens Antennas product page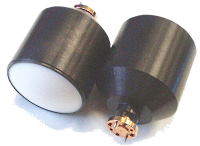 Welcome to visit updated web page for Gaussian Optics Lens Antennas (GOLA) by ELVA-1. These GOLA antennas are available in 12 subbands from 18 GHz to 400 GHz.
Often GOLA antennas are used for near-field applications such as plasma diagnostics and exploring of material properties.
Polarization options are single polarization: linear or circular, dual polarization is also available but upon request, also GOLA can be with spot beam focus.
Frequency, GHz: Up to 400 GHz
Gain (dBi) (nom, depending on frequency range) 25 to 55.5 
VSWR (typ) 1.5:1 Sidelobes (typ) 23 dB
Net efficiency (typ) 50% 
Dimensions depending on selected frequency of operation and gain (maximum aperture size 270 mm)
Datasheet for GOLA antennas is available at product page.