PPC-10G-E 10 Gbps Link Installed in Kopřivnice, Czech Republic
Kopřivnice Moravian-Silesian Region, Czech Republic — Jan 25, 2018 — ELVA-1 Company has announced successful installation of PPC-10G-E ultra-high throughput millimeter wave link for Teranet, local telecom operator by RGMT Group, ELVA's partner. The link works at E-band 71-76/81-86 GHz, which is lightly licensed frequency band in Czech Republic.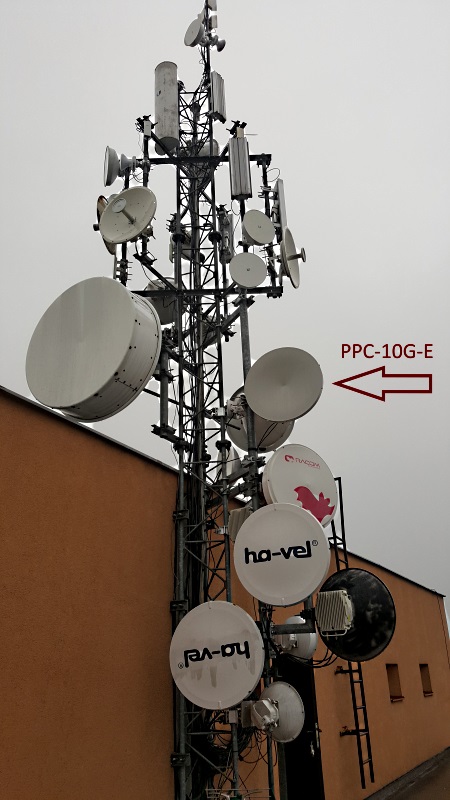 This PPC-10G-E link is intended to work on distance of 3442 m (1.86 miles) within Teranet backbone network. City of Kopřivnice is known as well-established industrial point: steel, engineering, and automotive industries are strong here. The Tatra truck company is also based here. Teranet backbone network has massive wireless presence at the area with radios of many brands, while ELVA PPC-10G-E is the first one to bring true 10 GE wireless connectivity.
David Jalůvka from Teranet has commented the link installation — "With modern demand for 10 GE connectivity from our customers, we have chosen ELVA 10 Gbps radio to speed-up of setting 10 Gigabit Ethernet connection between out towers at cities of Kopřivnice and Příbor. The trace is installed over suburb area with agriculture fields, local roads and small watercourses which are barriers for fiber digging. We have run a series of tests and can confirm stable 10 Gbps duplex wireless channel at 3.44 km distance".
Krasimir Zabadanov from RGMT Group has mentioned about their experience with PPC-10G-E link — "The place of installation is within area with often rains and fog, which has to be considered as negative factor for E-band wireless communications. The precipitation statistics shows that the number of days with rain or sometimes snow is varying from 6 to 11 days at every month all the year. For PPC-10G-E we are delighted with link budget, 10 GE throughput and connection uptime even at rain conditions. This is the first equipment of such top class we used to work with at RGMT. As overall review, equipment advantages are very simple assembly, excellent guidance and tuning system with measuring units, supply of connectors, good throughput values in case of unfavorable weather conditions, which by default suppress this frequency".
PPC-10G-E is IP radio link, providing 10 Gbps full-duplex throughput at E-band. The link is intended for point-to-point applications such as 4G/LTE/5G Backhaul, Corporate Campus Networks, IPTV, and other Wireless ISP backbones. All ELVA-1 links are designed for interconnection between remote WAN/LAN segments that located on the sites with no fixed line broadband connection. Typically, this is for landscape or industrial barriers or ecology restrictions for ground cable laying like national park, river, lake, airport/railway area, private land, etc.
The PPC-10G_E link site in Kopřivnice is available for guest visit and demo.
Please arrange your inquiries and guest visit with Mr. Krasimir Zabadanov, RGMT group s.r.o.,
tel. +420 602 617212, E-mail: krasi@rgmt.cz, Skype: Krasimir07.
***
About Teranet
Teranet was established in 2010 by people who have been in the field of telecommunications and high-speed internet since 1999. Among the major clients are T-Mobile, O2, Tatra-Koprivnice. Thanks to experience, it helped the company build a large position in the districts of Frýdek-Místek and Nový Jičín.
About ELVA-1
Founded in 1993, ELVA-1 is well known player at industrial and scientific instrumentation markets as supplier of components and systems for frequencies from 30 GHz to 1THz. Since 2000, ELVA-1 designs and manufactures ultra high speed radio links according to ECC and FCC requirements. The link operating frequencies include 40.5-43.5GHz, 71-76 & 81-86 GHz, and 92-95 GHz with emphasis on 71-76 & 81-86 GHz as FCC streamlined licensing rules for E-band. Similar, European regulations CEPT channel plan (ECC Recommendation(05)07) for 71-76GHz and 81-86GHz frequency bands radios opens EU wireless fronthaul, backhaul and network extension markets for point-to-point fixed wireless systems (FWS)
About RGMT
The company was established in 1996 and has been focused on building software platforms and programs. The company has worked in the music and film industry and has been involved in buying and selling music and film rights. Since 2017, it represents the interests of ELVA on the Czech and Slovak radio relay market.