ELVA-1 presents 10GE city-scale wireless network concept based on E-band and V-band 10Gbps radios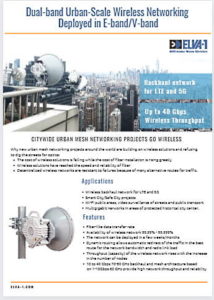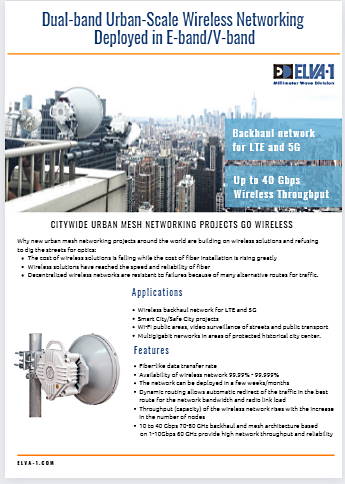 Fiber optics, with all the advantages in the form of cable reliability, has many disadvantages. These are a long deployment time, an extremely high cost of laying a cable, a lack of flexibility in the solution, a difficult procedure for restoring communication when a cable breaks.
The question of choosing between "optics or radio links", as always, lies in the profitability of projects. And here the network on radio links is already outperforming FTTH (Fiber-to-the-home). In fact, the city-scale mesh networks copy the principle of building the Internet, therefore they have  reliability of up to 5 nines.
ElVA-1 offers 10 to 40 Gbps 70-80 GHz backhaul and mesh architecture based on 1-10Gbps 60 GHz radios. This dual-band topology provides high network throughput and reliability.
New urban mesh networking projects around the world are building on wireless solutions and refusing to dig the streets for optics:
The cost of wireless solutions is falling while the cost of fiber installation is rising greatly

Wireless solutions have reached the speed and reliability of fiber

Decentralized wireless networks are resistant to failures because of many alternative routes for traffic.
 Download our booklet ELVA-1 Dual-band Urban-Scale Wireless Networking Concept for more detail.