FCC ID: 2AIXT-PPC-10G-E for ELVA-1 PPC-10G 70/80 GHz 10 Gbps MMW Link

ELVA-1 company pioneered in FCC Certification for 10 GE in E-band, which represents regulatory approval for marketing, sales, and installation of PPC-10G 10 Gbps radio links in the territory of United States.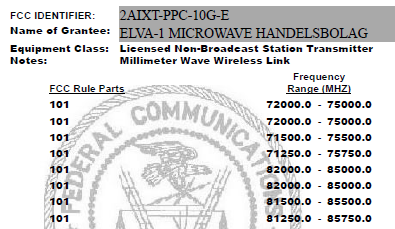 An FCC ID is the product ID assigned by the FCC to identify wireless products in the market. The FCC chooses 3 or 5 character "Grantee" codes to identify the business that created the product. In this case, ELVA-1 grantee code for FCC ID: 2AIXT-PPC-10G-E is 2AIXT. The remaining characters of the FCC ID, -PPC-10G-E, are associated with the product model. These letters are chosen by the applicant.
The PPC-10G 10-Gig millimeter wave platform is based on state-of-the-art MMIC chips, which support QAM 256 (Quadrature Amplitude Modulation) in digital data radio communications. QAM 256 modulation uses 8 bits per symbol. Drawing upon its lengthy experience in the design of precision low noise mm-wave scientific instruments, ELVA-1 has pioneered the implementation of QAM 256 technology for E-band to achieve the best spectrum efficiency in the industry. Using QAM 256, PPC-10G requires only 2 GHz of bandwidth for its 10 Gpbs data rate.
ELVA-1 PPC-10G 70/80 GHz 10 Gbps MMW Link has been examined at Washington Laboratories, Ltd, 7560 Lindbergh Drive, Gaithersburg, MD.