ELVA-1 presented the first in the industry E-band ultra short-range marine radar with absolutely zero blind spot.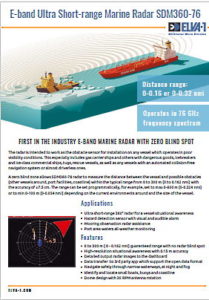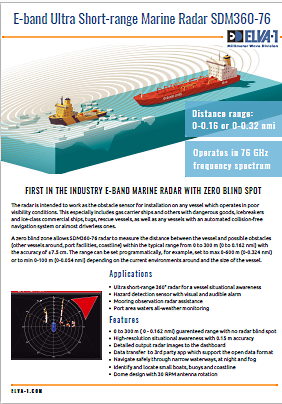 The radar is intended to work as the obstacle sensor for installation on any vessel which operates in poor visibility conditions. This especially includes gas carrier ships and others with dangerous goods, icebreakers and ice-class commercial ships, tugs, rescue vessels, as well as any vessels with an automated collision-free navigation system or almost driverless ones.
A zero blind zone allows SDM360-76 radar to measure the distance between the vessel and possible obstacles (other vessels around, port facilities, coastline) within the typical range from 0 to 300 m (0 to 0.162 nmi) with the accuracy of ±7.5 cm. The range can be set programmatically, for example, set to max 0-600 m (0-0.324 nmi) or to min 0-100 m (0-0.054 nmi) depending on the current environments around and the size of the vessel.
Applications
Ultra short-range 360° radar for a vessel situational awareness

Hazard detection sensor with visual and audible alarm

Mooring observation radar assistance

Port area waters all-weather monitoring

.
 – Download our booklet for E-band marine radar for more details. 
 – Visit SDM360-76 radar product page.
 – Read SDM360-76 marine radar FAQ