E-band radar helps to keep the roads safe at any weather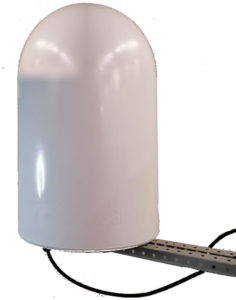 ELVA-1 announced SDM360-76RM,  this is a mm-wave road monitoring radar with all-round (360°) visibility and 200 m range. The radar works as a obstacle sensor for detection of road incidents including stopped cars, debris (FOD), collisions, passers-by people, and animals in the highway lanes and hard shoulder.
The SDM360-76RM radar sensor is a vital part of increasing road capacity without compromising safety. It provides the traffic control center with accurate and reliable vehicle tracking data and debris detection, no matter what the weather or lighting conditions are like.
SDM360-76RM radar improves motorists' safety by allowing smart signs and connected vehicles (including unmanned ones) to be integrated, delivering alerts straight to drivers and road safety personnel.
SDM360-76RM road monitoring radar works in 76.5 ± 0.5 GHz frequency spectrum,
(optional 80-81 GHz or 94-95 GHz).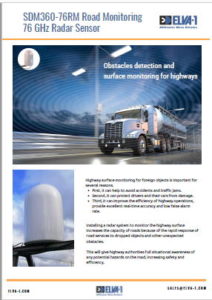 See SDM360-76RM radar booklet for specifications.
Contact ELVA-1 team for any inquiries regarding SDM360-76RM road monitoring radar and availability to get it for testing on your road safety project.