Industry First Announced 19.5 km Wireless Route Record Distance for ELVA-1 70/80 GHz 10 Gbps Radio Line

In April 2020, 10Gbps E-band radio was successfully tested on the industry's longest wireless path at 19,482 meters (12.1 miles). This is the first independently verified case of a 12+ mile range for commercially available 10Gbps radio operating in the 71-76/81-86 GHz (E-band) frequency spectrum.

PPC-10G-E 10G 70/80 GHz radios were installed on telecommunication towers. The installation was done in a rural area, along a highway to support 4G/LTE coverage.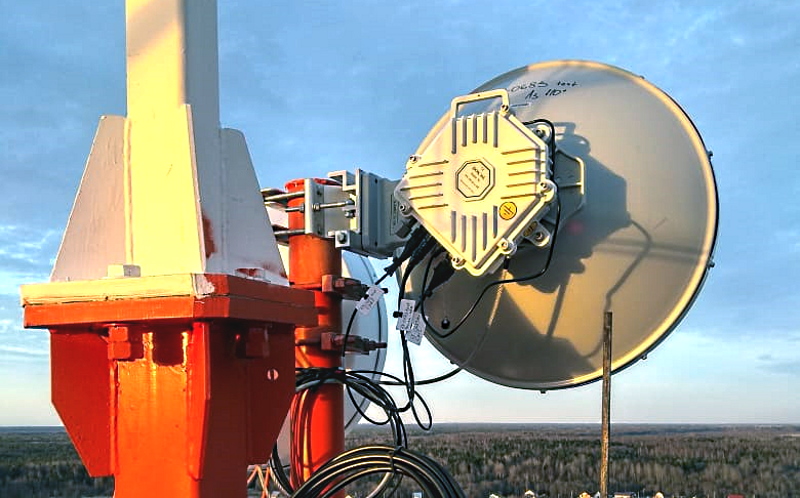 The radios were mounted on telecommunication towers at a height of about 50 m each, with a wireless path length of 19,482 m (12.1 miles). The PPC-10G-Es were tested with 60 cm antennas. Each radio has a built-in switch with 4x 10GE ports. The radio's energy budget for rain attenuation for 10 Gbps was 16.6 dB, and the margin of attenuation before the link got broken due to heavy rain was 38.9 dB.
The purpose of the test was to confirm the successful achievement of a 10-Gigabit connection over a wireless channel up to 20 km long. A stable connection of 9.97 Gbit/s was established. This was a significant technological breakthrough for ELVA 10G 70/80 GHz radios.
The previous longest routes of 10-gigabit 70-80 GHz links installed by company's engineers were at distances of 15 km (9.3 miles)  and 11 km (6.8 Miles), both of which were successful.
The operator confirmed testing of PPC-10G-E at this site and operation of the radio channel in the mode of nominal bandwidth up to 10 Gbit/s.
"In conditions where the installation of a fiber-optic cable is difficult or impractical, microwave links become for us the best solution for providing mobile communications to certain territories. We welcome manufacturers with advanced wireless equipment," — from customer's comments.
With this project, it was confirmed that 70/80 GHz E-band 10GE radio links could be successfully used at distances of 10+ miles. As an alternative to fiber or as a backup line, the 70/80 GHz PPC radios provide short deployment time at an affordable cost.
PPC-10G-E wireless link operates in the frequency range 70/80 GHz and provides full duplex 10 Gigabit Ethernet channel. Up to four PPC-10G-E 10 Gbps radios could be installed from the same footprint using various center frequency and cross-polarization of the signal to get 40 Gbps aggregate total bandwidth.
Michael Vaitman, ELVA-1 director, welcomes operators from anywhere in the world to contact ELVA-1 and to repeat 20 km installation and confirm this world record: "First, this is a new awesome world record for wireless range in E-band, as a typical distance for 70/80 GHz links is up to 5 km. Second, logs for 19.5 km link are available on request. Logs data are well matched with numbers of our Link Budget Calculator and also Pathloss 5 calculator, which now could be used for calculating wireless paths for ELVA-1 radios".