40 Gbps Wireless World Record for E-band Communications at a Distance of 11 km Over Yenisei River on Polar Circle
Update: In 2021 this wireless link was upgraded to dual-band (4x 10 Gbps E-band + 4x 5 Gbps Q-band) 8-channel 60 Gbps aggregated throughput. https://elva-1.com/news_events/60-gbps-broadband-wireless-world-record-mm-wave-link-as-a-backup-for-200-gbps-fiber
Update: See also: Year-round availability statistics for industry-first commercial 40 Gbps E-band wireless channel.

First time in the industry, commercial 40 Gbps wireless channel was deployed at unprecedented distance of 11 km (~7 miles) in Igarka city, Siberia. The channel has 72 μs latency and is built on doubled PPC-10G-E/2+0 E-band radios for Norilsk Nickel (MCX: GMKN).
19/08/2019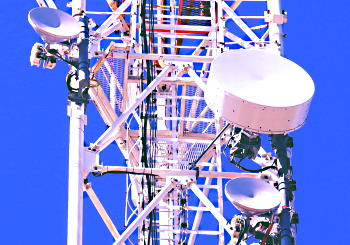 DOK Ltd, ELVA's manufacturing partner in Russia today has reported on their website about deployment of 40 Gbps radio channel across the Yenisei River as wireless backup of Norilsk Nickel's 40GE fiber channel backhaul. This cross-country 956 km fiber backhaul was laid through Russian Arctic regions to Norilsk city. The fiber has 40 Gbps bandwidth similar to installed radiolink and is intended for the operation of the Norilsk Nickel Group enterprises, local mobile operators, and state and municipal services.
This installation of E-band radios was done by DOK Ltd engineers jointly with specialists of Edinstvo Ltd, a subsidiary of Norilsky Nickel, who is responsible for the telecommunications of the holding. This project is a significant technological achievement and it marks the world record for combining ultra-gigabit overall bandwidth of the E-band radio communications with the unprecedented distance range.
In fact, 40 Gbps wireless channel is a new technology that has a proven potential for developing telecommunications infrastructure of large businesses.
A particularly difficult section of Norilsk Nickel's fiber backhaul is considered to be the pass of the cable at the bottom of Yenisei River. Extraordinary climate conditions of the Polar Circle make it impossible to repair the fiber cable under the iced waters for much of the year. In this regard, Edinstvo Ltd has decided to build a backup wireless channel with a capacity of 40 Gbps over the Yenisei River.
The points of deployment of 40 Gbps wireless channel were done at antenna masts in Igarka and Priluki cities, located on different banks of the Yenisei river at a distance of 11 km. There were used two paired radio bridges of the PPC-10G-E-HP / 2+0model. These are four parallel independent 10 Gbps radio channels aggregated into total capacity of 40 Gbps. Such scheme provides increased reliability of the wireless channel, as each 10 Gbps transceiver has an independent connection to power supply and external network equipment.
Max latency measured at 11 km distance was 72 microseconds. These numbers show that E-band radios can bring the data capacity and latency needs of 5G networks as well.
Pavel Vadov, Technical Director of Edinstvo Ltd, said, "We have studied the product lines of Russian and global brands of 10GE radio links looking for equipment which could work at wireless distance of 11 km. Only PPC-10G-E-HP radio presented by DOK has satisfied us. After few months of testing of one pilot 10 Gbps radio, we were assured that this radiolink is what we exactly need. At the present time, the radio channel with up to 40 Gbps capacity has been put into commercial operation".
With this project, it was confirmed that 70/80 GHz E-band 10GE radio links could be successfully used for replacement or as a backup for any hi-end fiber backhaul. There are many territories in the world where the laying of fiber optic links is complicated and costs a lot of money. As an alternative to fiber or as a backup line, the 70/80 GHz PPC radios provide short deployment time at an affordable cost.
PPC-10G-E-HP / 2+0 operates in the frequency range 70/80 GHz and has two independent 10 Gigabit Ethernet channels. Two PPC-10G-E-HP / 2 + 0 radio bridges with various center frequency and cross-polarization of the signal allows to get 40 Gbps aggregate total bandwidth.
***
About ELVA-1
Founded in 1993, ELVA -1 has facilities in Estonia and contracted manufacturing in St.Petersburg, Russia. Since 1993 the company has designed and manufactured millimetre wave equipment for communications and scientific sectors. For the past decade ELVA-1 has concentrated on designing high quality communications point-to-point radios, this has culminated in the release of the PPC-10G, the world's longest range commercially available 10+ Gigabit radio. Company website for telecom products http://tele.elva-1.com.
About NORILSK NICKEL
PJSC «MMC NORILSK NICKEL» is a diversified mining and metallurgical company, the world's largest producer of refined nickel and palladium and a leading producer of platinum, cobalt, copper and rhodium. The company also produces gold, silver, iridium, selenium, ruthenium and tellurium.
The production units of «NORILSK NICKEL» Group are located at the Norilsk Industrial District, on the Kola Peninsula and Chita region in Russia as well as in Finland and South Africa. PJSC «MMC «NORILSK NICKEL» shares are listed on the Moscow and Saint-Petersburg Stock Exchanges. PJSC «MMC «NORILSK NICKEL» ADRs trade over the counter in the US and on the London and Berlin Stock Exchanges. Company website https://www.nornickel.com.
On photos provided by DOK Ltd: PPC-10G-E/2+0 20 Gbps radios on tower in Siberia