Etheric Networks Brings 10 Gigabit-Powered Service to San Francisco
Next Generation Wireless Service Offers 'Organic Internet' Alternative to Telecom Conglomerates
April 04, 2018 – Etheric Networks today announced availability of redundant, disaster-proof gigabit internet available from its new infrastructure on the Bernal Hill telecommunication tower, located in San Francisco. The new service will provide gig-speed internet to businesses and residences in both the urban core and neighborhoods under-served by fiber. The new gigabit service adds competitively priced ultra-high speeds to Etheric's expansive long-range offerings throughout Silicon Valley.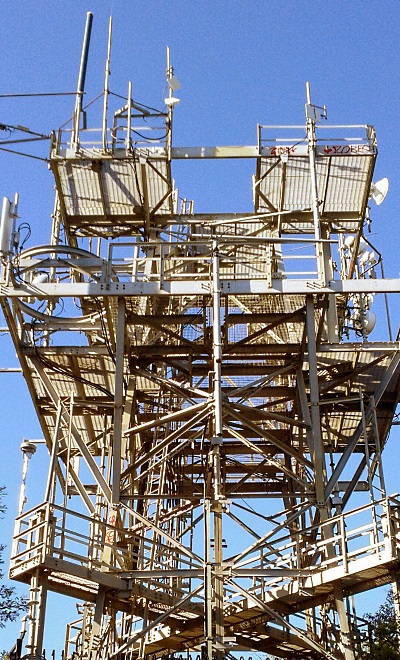 "Our new G7 service is our way of saying, "Thank you", to our Bay Area customers," said Etheric CEO Alexander Hagen. "For the past 15 years, we've been committed to continuous innovation – and to protecting customer privacy and access. On one side you have the conglomerates that oppose Net Neutrality and monetize customer data, on the other are local, sustainable, community-based internet service providers. Our hardware partners are pushing the limits of what's possible, and we're excited to unleash massive bandwidth for San Francisco on our network."
Etheric connected Bernal Hill to its network using powerful millimeter wave equipment from ELVA-1.
"ELVA-1's E-band radios offer reliable 10 Gbps, 20 Gbps, or 40 Gbps full duplex wireless connections over long distances," said John Stover, president of Gilland Electronics, ELVA-1's Morgan Hill, CA-based distributor. "We were pleased to provide Etheric with a PPC-10G radio link to connect Bernal Hill tower to a broadband backhaul point 3.5 miles away. This is a good example of ELVA-1 radio performance, demonstrating its potential as an excellent backhaul solution for urban network infrastructure."
Etheric provides gig-speed internet through an extensive network of fiber and long- medium- and short-range fixed wireless radios transmitting data on extremely high frequency bands. The service is comparable to 5G products. Etheric has completed an extensive battery of tests at Bernal Heights to bring secure, low-latency 100 megabit and gigabit internet to customers throughout eastern San Francisco. Its new offering comes as San Francisco considers a $1.9 billion municipal fiber network.
"Customers who prefer to work with local companies committed to protecting users rights now have a choice for gig speeds," said Hagen. "Our fixed wireless solutions are cheaper and faster to deploy than fiber, either as a permanent solution, or as a bridge to fiber. We recommend that the City consider a hybrid approach utilizing elements of both fixed wireless and fiber, which we believe would result in 30 to 40% cost savings over a pure fiber build without compromising reliability. We applaud and support the City of San Francisco's bold plan to provide public private collaboration in increasing connectivity for underserved residents."
***