95 GHz 2D-ELDOR ESR Spectrometer Contained ELVA-1 Transceiver was Presented at EUROISMAR 2019 Conference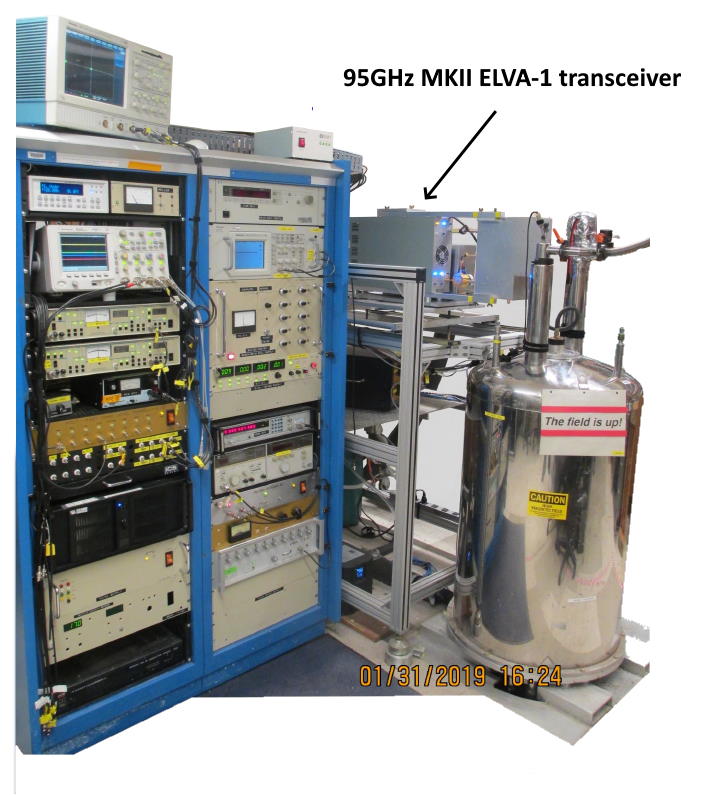 The group of scientists from Cornell University, Syracuse University and West Virginia University has presented newly rebuilt 95 GHz 2D-ELDOR ESR spectrometer at EUROISMAR 2019 Conference (Aug.25-30, 2019) in Berlin. The spectrometer is intended for 2D NMR techniques exploration of exchange of nuclei between environments with different NMR parameters.
Development of new ESR instrumentation is an important priority of the Cornell University National Biomedical Center for Advanced ESR Technology (ACERT). The ACERT high power (1.2kW) 95 GHz broadband spectrometer is currently the only system available to the scientific community allowing for 2D ELDOR studies on biologically relevant aqueous samples at room temperature.
According to presenter Dr. Boris Dzikovski from Cornell University, new 95GHz MKII ELVA-1 transceiver was a major focal point of the initial 95 GHz upgrade effort for this spectrometer. The spectrometer is long-term project as first version of ELVA-1 95GHz MKI transceiver was installed there in 2004.
Mr. Curt R. Dunnam from Cornell University said, "Within EUROISMAR attendees, EPR group leaders and instrumentation people expressed an encouraging level of interest in the "MKII" upgraded high-power 95 GHz instrument. Thank you to all the ELVA-1 specialists for the creation of a superior transceiver for our state-of-the-art EPR instrument."
About ELVA-1 95GHz MKII TRANSCEIVER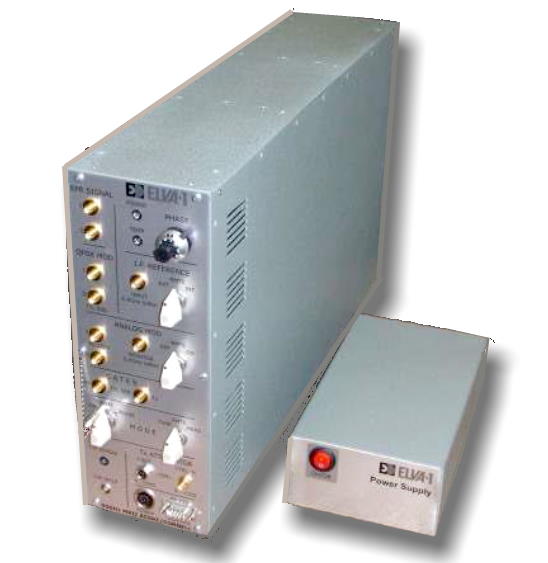 This is fully heterodyne transceiver with significantly improved noise figure, wideband AWG modulation capability and gated pulse widths as short as 2.5 ns.
Specifications
Fast TX pulse capability, minimum 2.5 ns FWHM
Compatible with future resonator B1 enhancement
Fast quadrature phase modulation (QPSK), 3 ns
Permits wider range of experiment pulse patterns
Wideband simultaneous AWG I/Q vector modulation, 350 MHz BW
Ringdown compensation, waveshaping, jump-frequency (DEER, EDNMR) experiments
95 GHz MKII Transceiver Noise Figure reduction to <4.5 dB from previous 12 dB (MKI)
Data collection/averaging time reduced by factor of 2.4
More info: Poster for 95 GHz MKII ESR SPECTROMETER