ELVA-1 unveiled a white paper for a 10 Gbps E-band mesh network based on PPC-10G radio links and Linux-based 10GE edge routers.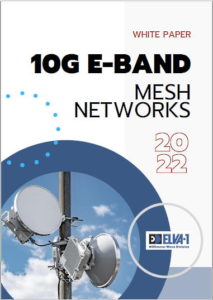 As our cities become increasingly connected, the need for reliable and high-speed wireless data networks increases. Urban-scale E-band mesh networks from ELVA-1 offer a great solution to this problem, providing 10 to 40 Gbps wireless data connectivity in the 70-80 GHz frequency spectrum.
A mesh network is made up of many peer-to-peer nodes that are interconnected with each other. Each node in a mesh network has an edge router with a network management feature, meaning traffic can be automatically distributed across the network nodes by algorithmically finding optimal routes.
Urban-scale outdoor E-band mesh networks offer many advantages over traditional data networks, including higher speeds, lower costs and improved reliability.
The dropping cost of wireless solutions, while the cost of fibre work is rising;
10 to 40 Gbps wireless connectivity with fibre-like capacity, and five nines reliability, which means business stability for the network operator;
Elimination of license costs (open-source software);
The minimal energy consumption and low regular maintenance requirements of each node ensure a lower cost of ownership.
PPC-10G radios are a core of the E-band mesh network. It is an IP outdoor radio that requires no indoor space or rack room. This means it can be mounted on rooftops, and towers and provide power over Ethernet (PoE) with just one cat 5/6 cable or using a dedicated power cable. Each radio has from 1 to 4x SFP+ 10GE optical fiber interfaces to be connected to user's 10GE network equipment.
 – Download our E-band mesh network White Paper. 
–  Download our booklet for E-band Q-band 10 Gbps radio links datasheet for more details. 
 – Visit PPC-10G product page.
 – Read Manual for FCC registration procedure for PPC-10G links