ELVA-1 presented the updated datasheet for E-band and Q-band 10 Gbps radio links of PPC-10G family.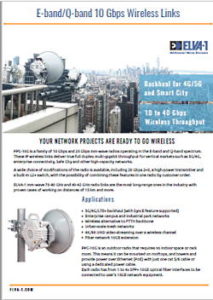 PPC-10G is a family of 10 Gbps and 20 Gbps mm-wave radios operating in the E-band and Q-band spectrum. These IP wireless links deliver true full duplex multi-gigabit throughput for vertical markets such as 5G/4G,
enterprise connectivity, Safe City and other high-capacity networks.
A wide choice of modifications of the radio is available, including 20 Gbps 2+0, a high-power transmitter and a built-in L2+ switch, with the possibility of combining these features in one radio by customer order.
ELVA-1 mm-wave 70-80 GHz and 40-42 GHz radio links are the most long-range ones in the industry with proven cases of working on distances of 15 km and more.
Applications for PPC-10G radio links
5G/4G/LTE+ backhaul (with SyncE feature supported)
Enterprise campus and industrial park networks
Wireless alternative to FTTH backbone
Urban-scale mesh networks
4K/8K UHD video streaming over a wireless channel
Fiber network 10GE extension
Backhaul for Smart City
PPC-10G is an outdoor radio that requires no indoor space or rack room. This means it can be mounted on rooftops, and towers and provide power over Ethernet (PoE) with just one cat 5/6 cable or using a dedicated power cable. Each radio has from 1 to 4x SFP+ 10GE optical fiber interfaces to be connected to user's 10GE network equipment.
– Download our booklet for E-band Q-band 10 Gbps radio links datasheet for more details.
– Visit PPC-10G product page.
– Read Manual for FCC registration procedure for PPC-10G links