New MobiBridge V-band 10GE radio datasheet published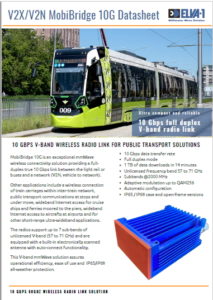 ELVA-1's team has prepared a new datasheet for MobiBridge 10G radio link for use in urban transport.
MobiBridge 10G is the industry-first 10 Gbps per channel radio designed to download and upload video, data and other content to light rail, metro trains and buses at stops and depots, as well as along the routes.
Railway operators can install radios between carriages to create an end-to-end 10 Gigabit network throughout the train. Due to the compact size of MobiBridge 10G, it is convenient for frequent rearrangement of carriages depending on the needs of a particular route.
With an electronically scanned antenna and auto-setup, the MobiBridge 10G supports dynamic carriage replacement by re-building a train network when the carriage gets into the antenna range.
Read more and download MobiBridge 10G datasheet.